2017 Work Report of Wanda Group by Chairman Wang Jianlin
Jan 22,2018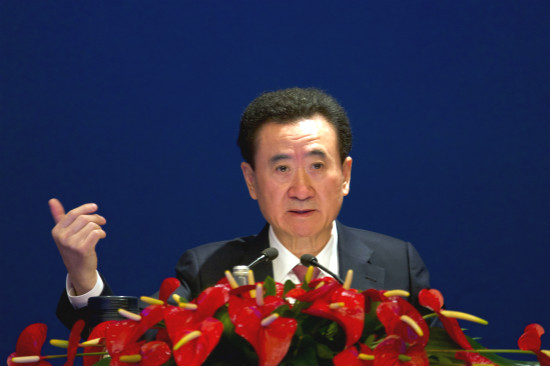 (January 20, 2018)
Dear colleagues, to begin with, I wish to, on behalf of the Board of Directors of Wanda Group, express a warm welcome to all of you present here at Wanda Group's 2017 annual meeting! The year 2017 was the most memorable year for Wanda Group and one in which Wanda experienced a number of challenges. Despite this, Wanda Group performed well thanks to the support of all parties as well as the concerted efforts of its entire staff. Here I would like to make a summary of our work in 2017.
I. MAIN ACHIEVEMENTS MADE IN 2017
(I) All Tasks Accomplished for the Year
In 2017, Wanda Commercial Properties sold its cultural tourism projects and hotel assets, resulting in a slight decrease in Wanda Group's assets and revenue. Wanda Group's assets reached RMB 700 billion in 2017, down 11.5% year on year, with domestic assets accounting for 93% and overseas assets accounting for 7%. Why has this figure been emphasized? In 2017, it was rumored that Wanda transferred a substantial number of its assets overseas. Our figure proves that it is totally unfounded. In 2017, Wanda Group's operating revenue reached RMB 227.37 billion, or 13% higher than the target, down 10.8% year on year. The decrease is primarily attributed to the revenue earned by selling the cultural tourism projects not being taking into consideration, and, added to that, that we made an investment of Wanda's tourism assets at the end of 2016 to an invested company. A total of approximately RMB 20 billion in revenue from the tourism industry was not accounted into this year's financial report. If you take the change of revenue in tourism into consideration, Wanda Group's net profit in 2017 exceeded its target by 14%, down only 1.1%, essentially unchanged year on year despite the sale of its asset, pointing to Wanda Group's good performance in Wanda Group in revenue.
In 2017, Wanda Commercial Properties achieved RMB 112.54 billion in revenue, exceeding its target by 4.1%, down by 21% year on year. Revenue from rental income reached RMB 25.52 billion, or 1.4% higher than the target, up 30.3% year on year. Projects launched in 2017 accounted for 21% of the group's total number of projects opened for business, including 24 asset-light projects from which Wanda Group received a share of the rent. Even with that, our total rental income increase by 30.3%, indicating a two-digit growth in rental income from the old properties. In other words, Wanda Group can still produce significant growth in rental income even if no new stores are opened. In 2017, Wanda Group achieved a rental collection rate of 101%, setting a world record for maintaining a collection rate of more than 99.5% for 12 consecutive years. In 2017, Wanda Group opened 49 new Wanda Plazas, one Wanda Mall and one Wanda tourism village. Of these, there were 24 asset-light projects, a very good result in this regard. Meanwhile, 26 heavy-asset plazas were opened. Even after the property areas of the cultural tourism projects and hotels were sold, the total property area still increased by 3.296 million square meters to 31.511 million square meters. Wanda Group is still the world's largest real estate enterprise. In 2017, Wanda Plaza received a total of 3.19 billion visitors, up 28.1% year on year. The number of new properties increased by 21%, and most new properties opened for business as of the second half of the year, indicating an increase of visitors to the old properties. The revenue from real estate reached RMB 83.17 billion, or 4% higher than the target, down 23.7% year on year, primarily due to the decrease of revenue from real estate resulting from the sale of cultural tourism projects.
In 2017, Wanda Cultural Industry Group earned RMB 63.78 billion in revenue, or 0.1% higher than the target, up 32.6% year on year (excluding the revenue from businesses in tourism).
In 2017, Wanda's film group achieved revenue of RMB 53.2 billion, or 98.5% of its target, up 35.9% year on year. This was 1.5% short of the target RMB 54 billion for revenue set in 2016 for 2017. Despite this, its net profit was 14% higher than the target. It is somewhat of a shame to know that the target might have been achieved with just a little more effort. Of course, what I refer to is that the revenue of the entire film group, including its overseas subsidiaries, and its subsidiaries in China, successfully reached its annual target. In addition, Wanda Sports earned RMB 7.18 billion in revenue, or 4.3% higher than the target, up 12.3% year on year. The Wanda Culture Travel Innovation Group earned RMB 1.95 billion in revenue, or 39.5% higher than the target. Wanda Kidsplace Group achieved RMB 1.44 billion in revenue, or 97% of its target, up 176% year on year.
Wanda Financial Group achieved RMB 32.12 billion in revenue, or 25.5% higher than its target. And it's worth noting that Wanda Financial Group's net profit achieved 1961% of its target, setting a record for Wanda Group in achievements of planned indices.
Wanda Internet Technology Group achieved RMB 5.86 billion in revenue, or 90.1% of its target.
Other Wanda subsidiaries achieved RMB 13.07 billion in revenue, or an average of 6% higher than the target.
In 2017, Wanda Group recorded a two-digit growth in year-on-year revenue when taking into consideration the tourism revenue from the sold cultural tourism projects and the reinvestment of the gains from the tourism industry into other companies.
(II) Remarkable Achievements in Transformation and Development
Over the past century, no large real estate enterprise has successfully made a transformation in a global scale. Wanda has successfully transformed into a service-oriented enterprise, rewriting history.
1. The vast majority of revenue came from service sector. Of the total revenue for 2017, service revenue accounted for 63.4%, up 8.4% year on year. Over recent years, revenue from Wanda's service sector has increased significantly every year, and will continue to increase into the future. Regarding revenue from the service sector, the rental income accounts for about 18%, with a much faster growth than that of Wanda's other sectors. Rental income has also achieved an average growth rate of more than 30% over consecutive years. Rental income is one of the most durable and stable sources of cash flow and has a high profit ratio. The increased ratio also indicates improvement in sustainability of income.
2. Increase in the percentage of cultural revenue. In 2017, the percentage of revenue from Wanda's cultural industry to its total revenue increased to 28.1% of Wanda's, close to 30%. It has therefore become one of Wanda's pillar industries. The Cultural Industry Group could make more effort to push the percentage to more than 30%.
3. Asset-light strategy exceeded expectations. The key to Wanda's transformation is the transformation of Wanda Commercial Properties from a heavy-asset enterprise to an enterprise that focuses on light assets with heavy assets as a supplement. It is entirely wrong to say that Wanda no longer holds properties after the transformation, simply that, unlike the past, Wanda projects are no longer 100% self-owned. Wanda officially proposed its asset-light strategy at the 2016 annual meeting. Its light assets are divided into two categories, one category being investment and the other being cooperation. The investment category of light assets refers to those for which others outlay the payments for while Wanda helps with land acquisition, design, construction, investment attraction, completion and operation. Upon completion of these steps, the property is handed over to the investor with